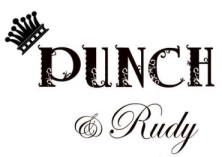 Couture girdle dresses & lingerie inspired outerwear.
Made in England.
Mr. Punch sniggered. "There's no use in trying", he said,


"You couldn't - not possibly - not ever choose just one!"

"I dare say you're right", sighed Rudy,

"It's impossible... in which case I shall buy all six before breakfast!"

(Adapted for Lewis Carroll's Alice in Wonderland).
Antique in its design, but not outmoded. Traditional, yet not conventional. With its sensual & risqué modern twist; I bring you the alluring, exclusive body contouring lingerie-inspired outerwear creation, that is 'PUNCH & Rudy'...
I was honoured when I was asked by the founder of the vivaciously Victorian 'PUNCH & Rudy', to write a blog post about her new & innovative brand. Instantly, I was presented with something I knew would be no challenge for me to speak about enthusiastically!
'PUNCH & Rudy' represents the fashions seen in film productions such as Moulin Rouge & the stage costumes of Les Miserables. To me it sets the scene & tells the story of forbidden romances & lovers united amongst the labyrinthine gardens of French palaces, vampiric escapades that reflect the flickering flames of rusting candelabras in Dracula-esque castles. It cries-out into the pea-soup thick foggy nights of Victorian England, trotting along the darkened, age-old, cobbled streets of ol' London Town in a handsome cab. Its a fantastical & surreal trip into the spiralling world of Alice In Wonderland; where a pleasant afternoon would be spent delighting in the many cakes at a tea-party that awaited me upon the strange, juxtaposing table of the Mad Hatter, or playing for my life, well, at the very least my head, in a gruelling game of chess with the usurper herself, The Queen of Hearts! 'PUNCH & Rudy' offers a range of garments that allow you to feel as if you have escaped the modes of modernity & fluttered into bygone days... 'PUNCH & Rudy' packs a punch & then some!
Founded by Lynsey Genders in July 2012, 'PUNCH & Rudy' is beginning to take the lingerie-as-outerwear world by storm, with its seductive, sensual & traditional designs. In a conversation with lady 'PUNCH & Rudy' herself, Lyn revealed:
"'PUNCH & Rudy was created because I couldn't find anything in the outerwear fashion market that even slightly resembled the gorgeous retro girdles from decades ago! It seemed such a shame that so many sumptuous designs were going to waste and had been hidden under outer garments for so long. It was so obviously a unique selling point to me; surely if I was looking for such a garment then there must be others wanting something similar (hence my girdle dress designs were born). They are inspired by the vintage girdles from days gone by."
Boasting only the finest of materials for her garments' production & working alongside one of the best lingerie manufactures in the UK, 'PUNCH & Rudy' is a brand that holds it's roots close to it's heart; keeping the manufacturing solely here in Britain:
"We make only limited numbers so we can always assure our customer exclusivity. Our dresses are designed with the best quality fabrics, silks, satins, guipures and laces, so we really do offer a couture garment, unique and at the same time giving the ultimate hourglass bodycon engineering that the vintage girdle once offered...We are no ordinary designer, yet our designs are for real women who embrace and rejoice in their sexuality and individuality..."
'PUNCH & Rudy' are proud to declare that their designs feature only the very finest fabrics available. High-quality satin, powernet, silk, brocade, lace, devoir, organza, guipure, ribbon & velvet, adorn each garment & add to the experience. The 'PUNCH & Rudy' colour palette is recognisably & notably rich, earthy, exotic & sumptuous. The wonderful thing about their garments, I've found, is that there always seems to be a little, exciting twist to their designs. They take such care in creating their pieces, contrasting both texture & colour combinations, paying much attention to detailing at every juncture.
'PUNCH & Rudy's' clever use of 'bodycon' structure that's engineered inside the garment, creates the much-admired & traditionally accepted feminine 'hourglass' effect, synonymous with the silhouettes of the ladies of old & the 1950s & now, its current resurgence. This engineering allows the lady all the flexibility & breathable movement & comfort of shape-wear, holds us in the most seductive of silhouettes, lifting the bosom, whilst still embracing their signature 'PUNCH & Rudy' detailing; the detachable suspender...
The beauty of 'PUNCH & Rudy', beyond their designs, is that they are a bijoux company, so you're guaranteed that all designs are bespoke & are made in very limited numbers. Therefore assured that you will be receiving a very special, exquisite & exclusive piece. The detachable detailing enables the wearer to adjust their garment, so that it is in-keeping for whatever they wish to do: suspenders on & stockings attached for intimate encounters & suspenders removed for a sophisticated evening dress, which can be matched with an elegant jacket for the wearer to delight in all the traditional pleasures, such as a romantic meal with their lover, or a trip to the theatres of old Drury Lane & Covent Garden. Whatever the lady's choice of pleasure, 'PUNCH & Rudy' make an eternal promise, whispered like that lovingly between two age-old lovers; that with their integral shape-wear properties, never has such a fashion forward garment been so versatile & yet so affordable...
There is no doubting 'PUNCH & Rudy's' conceptual designs are inspired by the Golden-Age of Burlesque, as well as many other historical eras, such as Jacobean, Elizabethan & the white, face-powdered world of le Madame Pompadour... 'PUNCH & Rudy' have gone a step further than their competitors & have recently enlisted the likes of multinational Burlesque artist Sukki Singapora
http://www.sukkisingapora.com/
as the 'face' for the brand. Lyn enthusiastically revealed:
"We want our customer to celebrate their femininity to feel beautiful and empowered which fits brilliantly with Sukki's ethos. She was nominated earlier this year for 'London's 'Asian Women of Achievement Award', for her pioneering work as 'Ambassador of Burlesque for Singapore' for Asian women's freedoms within the arts. Sukki has modelled our first dress off the production line: the 'Pompadour', in 'Esquire' magazine! We are very excited!"
'PUNCH & Rudy' are pleased to announce that they have five more wonderful & sensual styles to follow throughout the rest of this year, that will be sold via their website & throughout boutiques in the UK & Europe.
What has caught my attention with this brand is the passion Lyn expressed about her brand & how she seems to have taken those concepts & very trends that were used to make women conform to a certain, forced, physical ideal & something that acted as a symbol of constraint & turned it on it's head- using it as an image of feminine empowerment & beauty. Something that clearly can go hand-in-hand!
'PUNCH & Rudy' is such a brilliant name & again, the name, although tweaked, is synonymous with old, English tradition & I believe that is clearly what they are representing with their designs; just with a cheeky twist! I love the ideology, inspirations & the symbolism behind it all. 'PUNCH & Rudy' have encapsulated so many of the wonderful elements of English tradition & those I favour most...




The Collection A/W13
What PUNCH & Rudy are all about!
Sukki Singapora wearing PUNCH & Rudy!

'Valentine' mood-board!



Lots of Love,
Lover-Doll Presley

©
xTCBx